VISIOCONTROL 4.0 Live Data Monitoring
LAMTEC VISIOCONTROL 4.0 enables remote data exchange for all equipment controlled by LAMTEC BMS to enhance service, support and optimisation for OEM burner manufacturers and plant operators.
Cyber-attack protected
Continuous data backup and live data transmission
Visualisation of burners and applications, grouped by customer and/or region
Preventive maintenance
Improving efficiency
Support during commissioning including online support and troubleshooting
Technical data will follow shortly.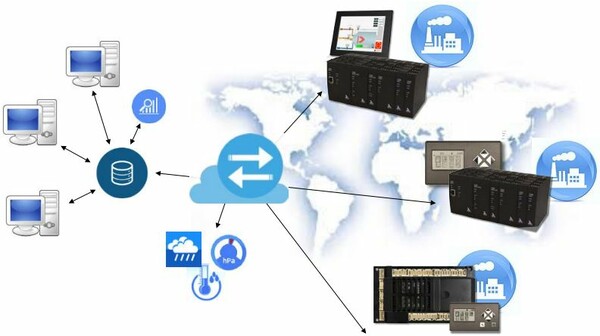 CMS security – S4S in cooperation with the TÜV Nord
IT  security  is  an  important  and  contemporary  topic.  But  re-mote  access  also  involves  risks.  LAMTEC,  in  conjunction  with  TUV  Nord,  has  developed  VISIOCONTROL  4.0  to  the  IEC62443 standard that specifies the process requirements for the secure development of products used in industrial automation and control systems.The development of IoT and Industry 4.0 in which industrial processes  and  manufacturing,  and  digitally  controlled  equipment  rely  increasingly  on  data  exchange,  has  in-creased  the  susceptibility  to  cyber  attacks.  LAMTEC  has  addressed this issue by adopting IEC62443 into the CMS and VISIOCONTROL 4.0 product development. The  keystone  of  VISICONTROL  4.0  is  the  NBM100  (Net-work  Bus  Module)  which  connects  the  LAMTEC  Burner Management Controllers to the Internet.

NBM100 - Network Bus Module
The NBM100 collects data from burner control units and their peripherals. If required, non-failsafe signals such as regular firing rate input can be passed on to the burner control unit.Burner data can be accessed transparently via the VISOCONTROL 4.0 cloud application. The representation  of the data can be customised and is  configured using a series of widgets.VSISIOCONTROL 4.0
The NBM100 with its connection to the VISIOCONTROL 4.0 fulfills highest it security standards.
The following options are available:

1. Gateway NBM100 
Hardware 
2. User licence
VISIOCONTROL 4.0 -  User licence for 1 year

3. Individual set-up 
Customised set-up of plant visualisation and reporting

4. Package of license and set-up 
NBM100 Gateway and2-Year Licence for VISIOCONTROL 4.0This contains a plant image in GUI design and includes standard feature set as listed below:
Display of the actuators, the compound curves, as well as the O2/ CO- and their learning curves
Thus also of the load and the current values of O2, COe, NOx from the LAMTEC measuring systems
Furthermore, the status of the digital inputs and outputs
Faults are stored as events
The same applies to plant start and plant stop
1 x mail notification to one person in the event of a fault
1 x SMS notification in the event of a fault on a connection

5. Modem without SIM card
LTE/3G modem for mobile network connection of the NBM100 - without SIM card.